Posted on October 1, 2010 by alanajoli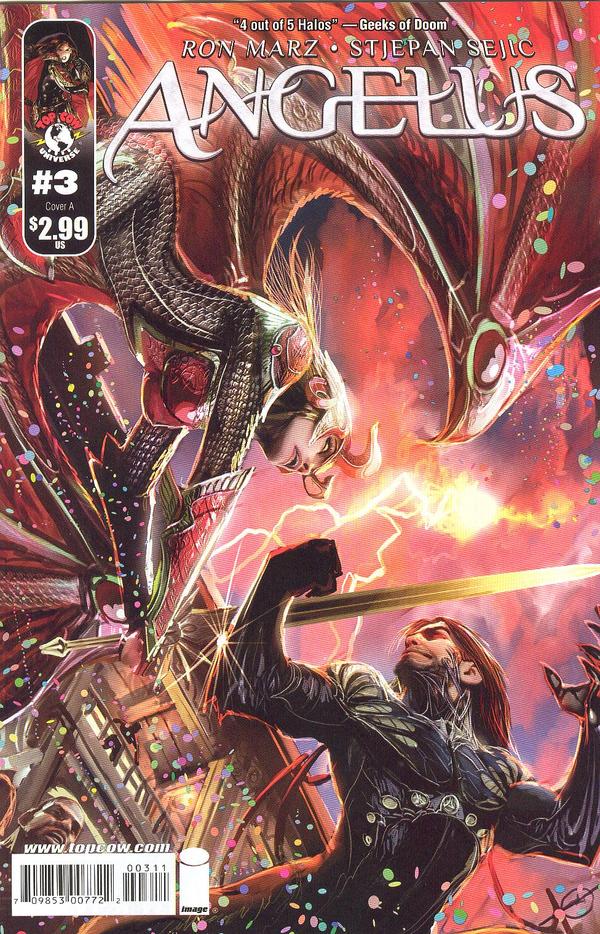 When I last saw Danielle Baptiste, she'd just been chosen as the host of the Angelus — and rumor was that she was moving out west with friend (and potential lover), Finch. We're now three issues in to her new story, told by Witchblade writer Marz and accompanied by Sejic's usual amazing artwork, and a lot seems to have happened. Sabine, formerly determined to serve as host to the Angelus herself, is now Dani's willing lieutenant. There's a villain known so far only as the Conductor. And head of the Darkness, Jackie Estacato, has come to pay Dani his respects — however, that manages to work out.
As the issue opens, three of the Angelus warriors are in hell, stealing an artifact for Sabine (who must have her own agenda — no surprise here, as I didn't trust her in Witchblade). They encounter another regular in the world — Tom Judge — who warns them about having two artifacts too close together and hints that a big event (probably a crossover event with all the splinter series that have started in 2010, but that may be my comics cynic talking) is coming. In one splash page, the Angelus warriors find out that their activities have not gone unnoticed — in a big (demonic) way. The posture of the Angelus warrior facing the legions of darkness is perfect — Sejic nails the image beautifully.
As the story continues, Jackie Estacato makes himself known and, as is inevitable when the Darkness and the Angelus meet, they explode into battle. Dani doesn't want things to go the way they always have, but Jackie makes it difficult for her to see him as anything but an enemy. Best part of this battle scene? It happens above Mardi Gras — and the commentary from the by-standers about having had too many shots, etc., is the comic relief for the tense battle above.
There are some quiet images in this issue — Dani and Finch have dessert with Dani's dad (they've returned to her home town of New Orleans), and Sejic does some of that interesting panel work I love: in the top panel, we see what's above the table and the conversation taking place. In the following panel, we see the feet below the table, and Dani interrupts whatever Finch was about to say. The gap in time between the panels — always existent in comics, which is one of the reasons they're an interesting medium — is nearly transparent. The way the space is taken up and the way the lines are broken fit perfectly. It's little moments like this that show that Marz and Sejic really know how to tell a story.
Issue #3 ends on a cliff hanger, and without seeing more, it's difficult to say how the whole arc will progress. That said, if Angelus #3 is representative of the series, it's off to a great start.
Review by Alana Abbott
Tags | drivethrucomics, top cow