Posted on December 13, 2010 by Flames
The fairy tale lives again in these forty new stories by some of the biggest names in contemporary fiction.
Neil Gaiman, Michael Cunningham, Aimee Bender, Kelly Link, Lydia Millet, and more than thirty other extraordinary writers celebrate fairy tales in this thrilling volume-the ultimate literary costume party.
Spinning houses and talking birds. Whispered secrets and borrowed hope. Here are new stories sewn from old skins, gathered from around the world by visionary editor Kate Bernheimer and inspired by everything from Hans Christian Andersen's "The Snow Queen" and "The Little Match Girl" to Charles Perrault's "Bluebeard" and "Cinderella" to the Brothers Grimm's "Hansel and Gretel" and "Rumpelstiltskin" to fairy tales by Goethe and Calvino. Fairy tales are our oldest literary tradition, and yet they chart the imaginative frontiers of the twenty-first century as powerfully as they evoke our earliest encounters with literature. This exhilarating collection restores their place in the literary canon.
Flames Rising is pleased to present the introduction to this new collection by Kate Bernheimer.
My Mother She Killed Me, My Father He Ate Me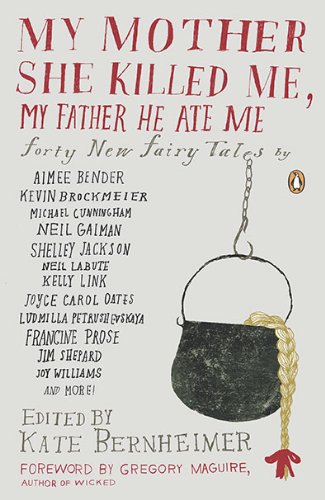 Despite its heft, this collection is a tiny hall of mirrors in the world's giant house of fairy tales. Fairy tales comprise thousands of stories written by thousands of writers over hundreds of years. A volume published in the mid–twentieth century that purported to catalog every type of folktale in existence had more than twenty-five hundred entries; since then, countless new stories have joyously entered the world via new translations, folkloric research, and artists working in a multitude of forms.
Readers love fairy tales. Even the most virulent critics of fairy tales can't look away. With their false brides, severed limbs, and talking donkeys, they are hypnotic. "All great novels are great fairy tales," wrote Nabokov. I would argue that all great narratives are great fairy tales . . . whatever their shape (novel, novella, short story, poem).
. . .
I was weaned on fairy tales. My grandfather, who may or may not have worked for Disney (nobody is certain) and who may or may not have worked with a Bostonian piano thief (we think he did), screened fairy-tale films in his basement for me and my siblings when we were young. The flying beds, cackling witches, and warbling birds shaped my being. In combination with terrifying Holocaust footage screened at my temple—and stories of burning bushes, singing "spring turtles," and parting seas—the consolation of magical stories was directly imprinted on me. I was shy, happiest inside books; their open world beckoned and took me in. Over the past seven years, as founder and editor of Fairy Tale Review, I have seen the passionate interest fairy tales hold for the thousands of writers who submit to every issue. I founded the journal out of a sense that literary works based on fairy tales, like the lonely heroes of fairy tales themselves, lacked homes. I was immediately flooded with very good manuscripts. Many hopeful correspondents are well-known authors whose magical works have been turned down by older literary publications; others are true believers and have devoted their lives to folklore in unusual ways—creating fairy-tale newspapers, selling homemade fairy-tale wares, producing freely distributed fairy-tale comics; still others are grandfathers, mothers, teachers, biologists, or students who as new writers feel comfortable trying on the fairy-tale form. I am touched by every submission; each shines with love for fairy tales.
. . .
I've had the privilege of introducing many students to the fairy tale's strange history, so carefully studied by such scholars as Maria Tatar and Jack Zipes, who teach us that originally fairy tales were not directed toward children, though they were overheard by youngsters around the hearth, and that they function in an almost totemic way for both young and old. My love of fairy tales drives all of my writing, whether a novel, a short story, or a book for children. I have the honor of making my day-to-day work the celebration of fairy tales. All of this—the journal editorship, the teaching of craft, the casual conversations, the life of a writer—reflects back to me that fairy tales are simply
essential, and I want to share that with you.
My Mother She Killed Me, My Father He Ate Me is like a beloved, handmade, topsy-turvy, cool doll. I had one as a kid (perhaps you did, too): on one side was Red Riding Hood, and underneath, the grandmother and wolf; how it scared and delighted me! If you peek under this book's voluminous skirt, you'll find some wonderful creatures hiding here, lovers of fairy tales all: Angela Carter, Hans Christian Andersen, J. R. R. Tolkien, Italo Calvino, Emily Dickinson, Barbara Comyns, the Brothers Grimm. Next time you go to the library, please say hello to them, to their other fine fairy-tale companions, and to the scholars who have charted the history of the form: Maria Tatar, Jack Zipes, Marina Warner, Ruth Bottigheimer, Donald Haase, Cristina Bacchilega, and many others.
Once you start looking, it is easy to see the variety—the sheer fractal ferocity—and intelligence of fairy tales. This collection contains stories reflective of current trends (fragment, pastiche, story-in-chapters); it also contains stories told in more linear, straightforward ways. Some of the selections pay homage to midcentury and later styles; others come poetically through modes associated with the tradition of oral folklore. You will find stories that hew closely to their enchantment, and others that announce hardly any magic—until you encounter a tiny keyhole in the wall of their language. In each instance, you will easily enter these secret gardens.
. . .
I hope this book comprises not only a fantastic reading experience for you—a reintroduction to these stories with vintage and thrilling appeal—but also a call to preserve fairy tales for future generations. For in a fairy tale, you find the most wonderful world. Yes, it is violent; and yes, there is loss. There is murder, incest, famine, and rot—all of these haunt the stories, as they haunt us. The fairy-tale world is a real world. Fairy tales contain a spell that is not false: an invocation to protect those most endangered on this earth. The meek shall inherit . . . went one of the very first stories I heard as a child. I believed it then, and still do.


Fairy tales, fairy-tale readers: This book belongs to you.
. . .
My Mother She Killed Me, My Father He Ate Me is available now at Amazon.com.
Reprinted by arrangement with Penguin, a member of Penguin Group (USA) Inc., from My Mother She Killed Me, My Father He Ate Me edited by Kate Bernheimer. Copyright © 2010 by Kate Bernheimer.
Tags | dark-fantasy, fairy tales, neil-gaiman