Posted on December 6, 2010 by Flames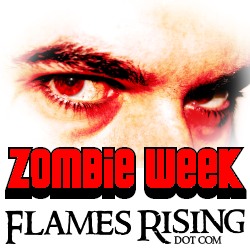 Anyone up for brrrrrrrraaaaaiiiiiiinnnnnnnnsssss?
FlamesRising.com is pleased to announce we're bringing you a full week of zombies. From essays to new interviews and reviews, we've got your flesh covered. To kick things off, we've scoured our archives to bring back some old articles from the dead. Check out some of your favorite zombie-themed articles here at FlamesRising.com.
br> br>
Top 10 Zombie Articles at FlamesRising.com
br>
1. Munchkin Zombies Preview – In Munchkin: Zombies you play…a zombie! Immediately, I was struck by how disgusting and wrong the cards were. Class cards cover all the different zombie types from your favorite movies, books and world myths. There are Strong Zombies, Fast Zombies, Plague Zombies — even Atomic Zombies! There's also also the chance you can pick up different types of zombie Mojo, too, which functions as a special ability.
2. Interview with Kim Paffenroth – What is there that hasn't been said about author Kim Paffenroth? I mean come on, the guy practically invented the thinking man's zombie story with his "Dying to Live" series, used the original Romero movies as the main focus for a book entitled "Gospel of The Living Dead," is a Professor of Religious Studies and his latest work has taken him into the depths of the 14th century poet and author of "The Divine Comedy," Dante Alighieri's soul.
3. Preview of Pallid Light – The world ends with the flip of a switch. The thundering storms strike across the world, searing the earth, leaving destruction in their wake. Few will survive. For the folks living in Temperance, Illinois the nightmare is just beginning. When the sky roils in luminous colors, the people of the small town begin to die, and Randall Clay decides to escape. What he didn't expect was the dead to come back to life or the nightmare that came after that. Read the first two chapters from Pallid Light!
4. Dead Future Issue 1 Review – In an era when comic books have the same relationship with zombies as ESPN has with football, it's difficult to find something fresh about the living dead, no pun intended. However, Grim Crew's Dead Future Issue 1 is an anthology comprised of three zombie apocalypse stories all of which offer an element of originality in this otherwise predictable comic book niche.
5. Preview of The Changed – Chris is an ordinary guy with a boring job, a perfect fiancé, and plans for a happy, if predictable, future. But when the dead stop dying and become, instead, simply "changed," ordinary isn't so comforting anymore. Wandering stray animals suddenly develop a taste for flesh and brains, and while most of the human zombies might be harmless, can anyone really be sure? Read a preview of The Changed by B.J. Burrow.
6. Robin Hood Friar Tuck Zombie Killers Review – The other day in my email there was a new / Offering of an eBook novel for me to review. / "What's this? A new tale of the great Robin Hood / As a zombie killer?!" Now this should be good! / Tis a different style of novel, for better or for worse / For this Canterbury tale is told entirely in verse.
7. Preview of Hater by David Moody – A modern take on the classic "apocalyptic" novel, Hater is similar in tone to the seminal works of H.G. Wells, and also the recent films 28 Days Later and I Am Legend. Hater tells the story of Danny McCoyne, an everyman forced to contend with a world gone mad, as vast numbers of the human population suddenly become irrationally violent, killing all who cross their path. Read the first chapter of David Moody's Hater.
8. Interview with Author David Wellington – David Wellington is the author of several successful horror novels, short stories and web serials. The Monster Island zombie series and 13 Bullets vampire fiction are very popular with horror fans, who can't wait to see what happens next.
Vampire Zero, the third book featuring Laura Caxton and Jameson Arkeley was recently released. FlamesRising.com's editor-in-chief had the chance to talk to David a bit about the story and some of his other projects.
9. Interview with Author Z.A. Recht – Novelist Z. A. Recht, the author of Morningstar Strain: Plague of the Dead and Morningstar Strain: Thunder and Ashes, likes playing god in a world of shamblers (slow moving zombies), sprinters (fast-moving ones), and rotting, stinking corpses (unmoving).
"No, really," said Recht of playing god. "If the Morningstar Strain universe actually existed, I would be the Great Spirit of it, and that's the beauty of writing. It allows you to create and destroy entire worlds on a whim."
10. Interview with Andy Looney on Zombie Fluxx – Zombie Fluxx was named "Best Card Game" at this year's Origins Game Fair and has been a top seller for Looney Labs since it was released in 2007.
The basic game of Zombie Fluxx is the same as regular Fluxx. Players have four main kinds of cards – Rules, Goals, Actions and Keepers. Actions force players to do things; Rules change or add to the rules of the game, such as hand size or the number of cards played and drawn each turn; Keepers are items placed in front of a player; and Goals determine what a player has to do to win the game, usually based on the Keepers in-play or out-of-play.
br>
Be sure to stay tuned for more undead during ZOMBIE WEEK at FlamesRising.com!
Tags | david-wellington, permuted-press, zombies