Posted on October 2, 2009 by Flames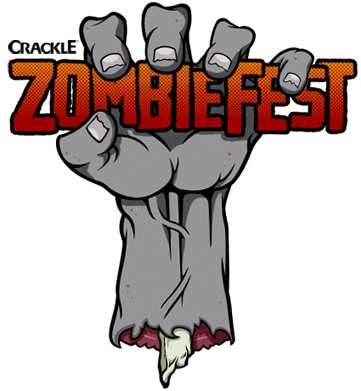 Calling all zombie lovers! Crackle.com is getting into the spirit of Halloween by offering free films, previews of ZOMBIELAND and an original comedy series entitled WOKE UP DEAD starring Jon Heder (NAPOLEON DYNAMITE).
The folks over at Crackle.com are really excited to show their love for the shambling, brain-eating undead. In the first half of October, they'll be highlighting some great zombie films for fans to legally watch on the web for free. How cool is that? We'd like to share with you a little bit about how Robby, Crackle.com's Director of Development, feels about the horror in these films.
On the surface level zombie films are exactly the same as all horror films: you're being chased by something that wants to kill you, and that's, you know, scary. What's even more terrifying in zombie films is the collapse of society around the characters. The police are in as much danger as you are, and no one is going to bother with the court system if a conflict arises. So the real terror is that even if you manage to escape from the zombies that are (slowly) chasing after you, you still have to deal with the regular folks around you, who are no longer held in check by laws or fear of imprisonment.–SOURCE: Welcome to Zombiefest
Robby has a great point, because unlike other monster movies, in a typical zombie movie the focus is on the main characters trying to survive in a setting that is working "against" them. That setting doesn't just involve a frantic escape from the zombies, but also from other people that are desperate to do whatever it takes to survive. In a way, zombie films are more terrifying than other horror flicks because there seems to be no escape. Even if the characters manage to avoid turning into (or getting eaten by a zombie), they still have to deal with the "happily-never-after." How will they rebuild society? How will they find clean water, food and medicine?
FlamesRising.com got a sneak peek at the upcoming movies that will be featured on Crackle.com, and we're happy to report there is an excellent mix of true black-and-white classics and contemporary films. You can watch CREATURE WITH THE ATOM BRAIN (1959), a pulp film about an ex-Nazi mad scientist, hell-bent on creating a nuclear-powered zombie. If you don't want ex-Nazis showing up in your zombie films, you might want to check out BLOOD SHACK or the zombie-infested VOODOO ISLAND, starring Boris Karloff. We have a lot of Edgar Allen Poe fans here at FlamesRising.com, so we're pretty excited to see the Poe-inspired film THE OBLONG BOX starring Christopher Lee and the legendary Vincent Price.
In addition to offering zombie movies for you to enjoy, Crackle.com will be offering previews for its new webisode series entitled WOKE UP DEAD and a few more "horrifying" tricks up their sleeve to help movie lovers get in the mood for Halloween. WOKE UP DEAD is about a nerd named Drex who wakes up in a bathtub full of water…only he can't find his heartbeat. We all know how hard it is to be a nerd, can Drex deal with being a zombie, too? Be sure to check out the trailer below to get a taste for what this series is about.
From Crackle:
For more information about Zombiefest, be sure to shamble on over to Crackle.com today!
Tags | classic horror, horror webisodes, horror-movies, zombies