Posted on March 5, 2008 by Matt-M-McElroy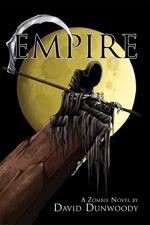 The outbreak began in 2007. It's now 2112.
The crippled U.S. government is giving up its fight against an undead plague. Military forces and aid have been withdrawn from the last coastal cities, leaving those who choose to stay in the "badlands" defenseless against hordes of zombified humans and animals.
It's been a hopeless battle from the beginning. The undead, born of an otherworldly energy fused with a deadly virus, have no natural enemies.
But they do have one supernatural enemy… Death himself.
Descending upon the ghost town of Jefferson Harbor, Louisiana, the Grim Reaper embarks on a bloody campaign to put down the legions that have defied his touch for so long. He will find allies in the city's last survivors, and a nemesis in a man who wants to harness the force driving the zombies—a man who seeks to build an empire of the dead where America once stood.
Pre-order now at Horror Mall just $14.95 and get free shipping!
"A macabre masterpiece of post-apocalyptic zombie goodness. If you have waited until the end of the world for a wonderfully told, well written, and exciting as hell novel … your world has just ended. EMPIRE is that novel."
–Dr. Pus, Library of the Living Dead Podcast
Tags | permuted-press, zombies