Posted on July 24, 2008 by Matt-M-McElroy
This is the last preview we'll have of the Exquisite Replicas RPG before it is released at GenCon Indy. So far we have seen a mix of previews that include looks at the new setting and some of the new mechanics introduced.
Visit the Previews page here at Flames Rising for a complete list of all the teasers we have posted so far. We have had a glimpse at one type of Othersider already, we have also heard a little bit of their dark plans, but we've yet to see where they come from…
Today we get a peek at the Otherside…
The Otherside
Otherside is organized into a series of compounds. Each is exactly ten square miles and is enclosed by 50-foot-high walls, which are patrolled by sentries. These iron walls are black with dirt and soot, and they look as though they haven't been cared for in years. Each wall is over twenty feet thick, making it impossible to tunnel through without being caught before one could complete the job. Even if it were possible, the effort would be fruitless. The compounds continue in every direction, literally into infinity. Escaping over, or through, the walls of one compound only lands the fugitive in another that is exactly like the one he or she left.
There is no external source of light in Otherside. There are no stars, no sun, and no streetlights. Spotlights are mounted on the walls and shine into the compound, but they are constantly moving, sweeping the area for signs of trouble. Thus, they provide little in the way of proper illumination. However, as a result of their presence, there is more light near the walls than in the center of the compound.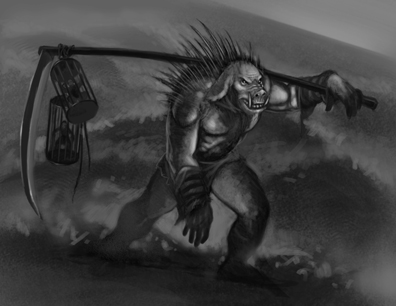 The only other light comes from the Red Smog. This omnipresent cloud of pollution gives off a strange crimson glow that provides some illumination—the thicker the smog, the brighter the light. The Red Smog is therefore brightest near the center of the compound, where its source, the Factory where the replicas are manufactured, is located.
Despite operating largely as a junkyard for those stolen objects and kidnapped creatures from Earth, and as a factory for the creation of replicas, each compound has a number of other significant buildings. These vary from bunkhouses for Othersiders to tenement buildings. The purpose of these last structures is not known. Ostensibly, they could be intended for housing the people and pets brought to Otherside, but that seems unlikely since abductees are never shown to a dwelling; they are simply dumped into Otherside and left to fend for themselves.
Any incursion into the compound must be conducted with care. Razorbacks (creatures half human and half swine, who stand thirty feet tall) forcefully deal with all intruders.
Exquisite Replicas – Available August 2008
Visit the Exquisite Replicas webpage at Abstract Nova for more information and free downloads. More previews are on the way at Flames Rising each week as well.
Look for Abstract Nova products at Indie Press Revolution and at GenCon Indy this August (booth #2115).
Tags | abstract nova, aliens, exquisite replicas, gencon, rpgs