Posted on November 12, 2021 by Monica Valentinelli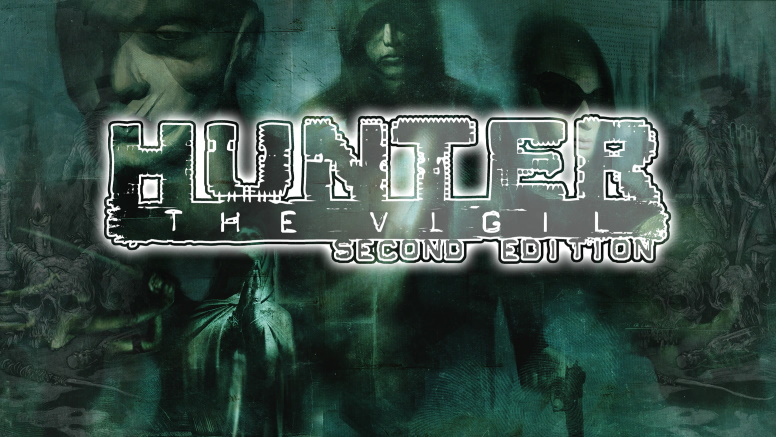 Hunter: The Vigil Second Edition is now available for pre-order on BackerKit, and is nearing its debut. As fans review the text one section that has gotten a lot of questions is the Native compact, SWORN. Fans wanted to know whether or not that was written by an indigenous designer, and the answer is "Yes." In fact, not only did Allen create SWORN, he also helped me refresh all of the existing compacts and conspiracies in the game, too.
Anticipating questions, I interviewed the compact's designer, Allen Turner, to promote the HTV2E Kickstarter back in February 2020. I'll be resharing all the interviews I conducted with the Hunter team when the game is available. You are encouraged to re-read Allen Turner Discussing SWORN in Hunter The Vigil Second Edition.
Today, I want to shift gears and talk about this from a developer's perspective.
To frame Allen's interview, I talked about how:
"It was my goal from Hunter 2E's inception to ensure the corebook presented different playing styles and groups to ensure you could either envision yourself as a member or create your own to suit your needs."
That's the quotable version of what I hope the game accomplishes overall. A modern, monster-hunting game about sacrifices, hard choices, and banding together when the chips are down is something I felt should be reflective of the diversity present in our communities today. This is not "a" hunter's story: This has the potential to be "your" story about hunting monsters in your own backyard, and there are a lot of tools provided so you can do just that.
For me, no Americana-flavored game set in today's world can be complete without the inclusion of indigenous peoples. There is so much historical content focused on the ghosts of the past, but very little modern. There are also a lot of entrenched biases: Allen's name is in the credits, but his name doesn't "sound" indigenous. (If you thought that, at any point, that's a great opportunity to do a little self-examination.) Allen worked on ALL the compacts and conspiracies, too, with the exception of the two Slasher-facing groups, and SWORN is the only one he worked on that gets called out.
SWORN does stand out, because again–there isn't a lot of modern Native content, and because of that, its 1,500 word write-up is in the spotlight.
When I hired Allen, I didn't make a ride-or-die decision to work with him based on SWORN. I just created space, then told him I wanted a Native compact, and let him decide what to do because I trusted him as a designer. We had all kinds of conversations about the game's concept, but ultimately I left the decision to him. I simply created space by adding new compacts and conspiracies in the book. (Something I did seek prior approval for.) I didn't tell Allen I only wanted him for that space, and then tell him what that space should look like.
To better understand my approach, let me use a dinner table analogy. A lot of times, with respect to any conversations about diversity and representation, there's a fear that something will be taken away. Right? There's an idea that there's only eight seats at the table, so if you need better representation, you'd remove two guests and add two more assigning where they sit, what they eat, etc.
Instead, I look at the dinner table and say: "Oh hey, where's that table extension? Let's just make the table bigger." Then I send an invite, and I do my best to throw a fun dinner party by asking them why they're excited to come and what they want to contribute. I don't demand or assume everyone wants to write about "their" culture; I try to find ways to create spaces that allows creatives to choose.
Sometimes, there's an unspoken pressure for creatives to only work on content related to their cultural or identity-related viewpoint. This introduces a ton of problems because there is no monolithic or authoritative view of a culture or identity. There just isn't and hasn't been for a very, very long time (if there ever was one). Seeking "one" view creates shortcuts and often reinforces stereotypes instead of creating opportunities to learn. For example, did you know about Relocation?
"People from Native nations all over the country were pushed to the city during Relocation back in the late 1950s. That was an interesting time because you suddenly had a lot of people stuck in an urban environment, in the ghetto, trying to survive while navigating all sorts of restrictions and rules they didn't have where they came from. In particular, there just wasn't the density of people back in rural and reservation areas (although many reservations were also dirt poor)." — From an Interview with Allen Turner
Additionally, Allen understood the gravity of his assignment. Not only did he create an intertribal space, he also consulted multiple members within his communities and playtested the material with LARP designer Gabriel De Los Angeles and game designer/writer James F. Sambrano, too. Subscribers can watch their actual play on the Onyx Path Publishing Twitch Channel.
I'm going to go out on a limb, here, and say it's okay if you didn't know what Relocation was. As we grow as people, as we consume more media, we learn more about ourselves, our cultures, our orientation, and our identities. Sometimes, we are going to get things wrong. (I know I have.) Sometimes, we might get something "right" without fully understanding what that means, too. Or, what's right for 2021 is going to be hilariously outdated in 2026. The pressure to "be correct" also fosters a creative viewpoint to create stories, games, comics, even movies based on, to quote Victor Raymond, essentialism rather than mutual respect.
I hope you find opportunities to create spaces in your own life that are based on mutual respect. Maybe then, you'll find yourself as blessed with an amazing, talented friend and collaborator as Allen has turned out to be. When Hunter The Vigil Second Edition comes out, can you do me a favor? Help me honor all of Allen's work and the rest of the team's. This was a licensed property–a game I don't own–so you also have Onyx Path Publishing and the folks at Paradox in approvals to thank, too.
Again, thank you for listening. I'm not really comfortable talking about this aspect of my development, because it is something I learned how to "do" after a lot of trial and error. So, thanks again, Allen, for helping me edit this post and understanding why I had to write it. May your own table always be filled with good food, great people, and interesting conversation.
For updates about the game, I'm going to direct you to The Onyx Path website. Or, pre-order Hunter The Vigil Second Edition on BackerKit.


Tags | horror games, htv2e, ttrpgs