Posted on December 17, 2019 by Flames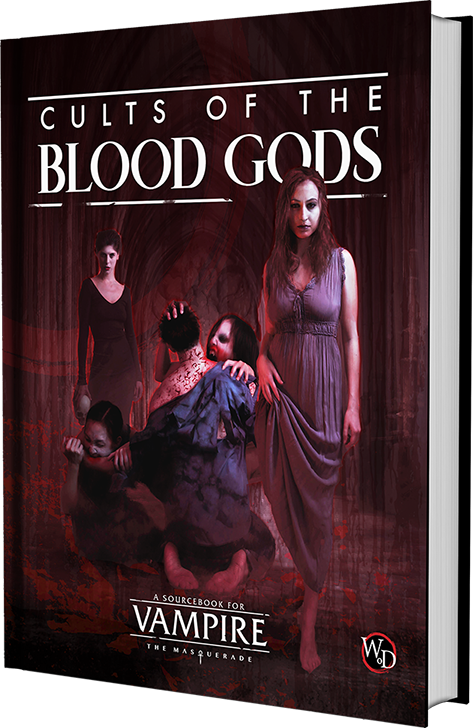 Rich Thomas, founder and Creative Director of Onyx Path Publishing, announced the company launched the Kickstarter for Cults of the Blood Gods, a supplement for the Vampire: The Masquerade 5th Edition core rulebook.
Cults of the Blood Gods is a new style of sourcebook for Vampire: The Masquerade 5th Edition that introduces the pernicious horror of twisted beliefs. Designed for players and Storytellers, this supplement includes:
– An in-character breakdown of the rise of esoteric beliefs among the ranks of the undead and how faith drives many of the major aspects of vampire culture.
– A host of religions — from historic theocracies and globe-spanning conspiracies to fringe cults and mortal beliefs arising in the modern nights — introduced for incorporation into your character backgrounds or as supporting casts and antagonist groups in your chronicles.
– The history, structure, and ambitions of the Hecata, the vampire group known as the Clan of Death, as well as a chapter dedicated to playing a vampire among the Necromancers, and the rituals for their Discipline: Oblivion.
– Guidance on how to use ecclesiastical horror and construct cults in Vampire, making them a vivid backdrop for your own stories, including new coterie styles focused on cult play.
– Faith-based story hooks and a full story centered on the activities of the Hecata, involving walking corpses, ghosts, ready-made characters, and the secrets of the most twisted family in the World of Darkness.
– New Loresheets, Discipline powers, and Predator types for inclusion in your chronicles, encouraging player characters to engage fully with the material presented in this book.
The Cults of the Blood Gods Kickstarter has launched for a traditionally-printed full color hardcover edition that will be available in game stores. Previews of the finished manuscript will be released during the Kickstarter. A standard digital edition will be released following Kickstarter fulfillment.
Tags | onyx path, vampires, world-of-darkness