Posted on November 6, 2018 by Flames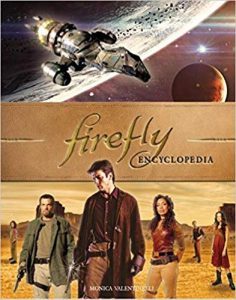 Out now is the Firefly Encyclopedia written by FlamesRising.com contributor Monica Valentinelli. Monica was also the line developer and lead writer for the award-winning Firefly RPG line and wrote The Gorramn Shiniest Language Guide and Phrasebook in the 'Verse which also featured work by Jenny Lynn, the show's translator and voice of Serenity.
The Firefly Encyclopedia includes a narrative retelling of the story that draws from the Serenity comics, the show's scripts, and notes/interviews with Joss Whedon. Additionally, Monica tackles her analysis of the show drawing on multiple sources including a short story by Ernest Haycox (1899-9150). Other contributions include an essay about the science of Firefly by Michael S. Brotherton, new interviews with Chris Roberson and Keith R.A. DeCandido, a eulogy for Ron Glass written by Maurice Broaddus, and additional Mandarin Chinese translations by Tony Lee.
To celebrate the book's release, Monica is offering a bonus interview with translator Tony Lee on her blog. The Firefly Encyclopedia is available wherever books are sold, including Barnes & Noble, Target, Amazon, and Books-A-Millon.
Shiny!


Tags | firefly