Posted on January 27, 2023 by Flames
Onyx Path Publishing and Pugsteady have just launched a Kickstarter for a new edition of the Realms of Pugmire RPG.
Realms of Pugmire is a fantasy game about evolved pets and other animals with a strong connection to humanity, with dogs as the central characters. These characters live in the ruins of our world, using tools, language, and ingenuity to build a new civilization in their image, with the kingdom of Pugmire acting as a center of dog civilization.
Eddy Webb stopped by to tell us a bit about the new edition and the Kickstarter project.
What was the biggest inspiration for a new edition of Pugmire?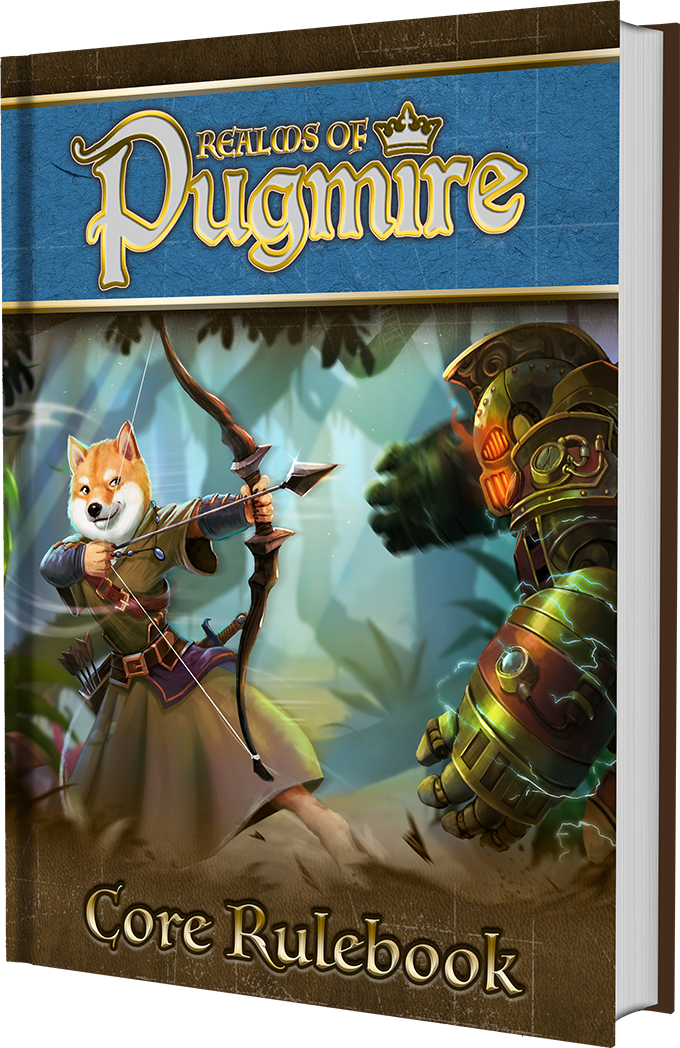 It's a few things. Firstly, it's been eight years, and even though I'm really happy with how Pugmire came out, I've learned a lot both about game design and about the world of Pugmire as a whole. It's a chance to make some adjustments and tweaks to really establish Pugmire as a line. Realms of Pugmire is something that's going to have several books coming out of the gate and is designed from the start to be a full fantasy game line rather than just books organically coming out one after another.
Another piece of it is the fantasy game landscape has changed radically since 2015, and it's a chance to take into account those changes, like virtual tabletops being much more prominent and bio-essentialism of fantasy races being reconsidered. Things that I wanted to push more at the time, but now that the landscape has changed, I can really lean harder in those directions.
Finally, it's an opportunity to make changes to push the game further in the directions it needs to go, rather than feeling like I needed to stick with a particular system or license. I originally built it as a way to get more people on board with the idea of a fantasy game with dogs. Now, people are on board, so I can start moving things to make Pugmire better, rather than feeling confined to older decisions.
What was the playtesting process like and what did you learn?
The playtesting process has been surprisingly smooth. If anything, the main thing I learned is that people were ready for the changes and I could push them a little further than I previously predicted. Of course I've uncovered a lot of small rules tweaks and adjustments, and had some opportunities to clarify things even further, but all in all the responses I've been getting have been "Yes, more of this please."
Has the setting changed or evolved in the new edition?
Not much, no. As I said, I've learned a lot about the setting over the years, and this was a good opportunity to recalibrate things a bit. Rather than doing a total reboot, however, I decided the best way to handle things would be to nudge the timeline along an indeterminate number of years. However, over the years I've gotten less and less enamored with "metaplot," i.e. the idea that the setting evolves in such a way that you need to read every previous book to understand what happened and why. If you're familiar with the original version, you'll find some nice references and easter eggs of how things have moved along a little. But if you're brand new to the game, you won't need to know any of that to understand what's going on.
What can you tell us about the antagonists in this edition?
Everything that we featured in the original rulebook, you'll find a version of here, plus a whole lot more. There's also been some organizational changes. For example, which enemies are undead or Unseen demons are clearly spelled out now, and spells and tricks will better interact with them, so the Guide doesn't have to guess. Also, we've added new keywords like "minion" and "legendary," allowing you to take any enemy and make them either quickly-dispatched cannon fodder or a terrifyingly powerful antagonist.
What is one of your favorite bits of Pugmire lore or a setting secret?
One of my favorite bits of Pugmire lore is how each group misunderstands each other. The dogs, for example, have specific perspectives on things like how cats use necromancy and how rodents buy and sell things. Then you pick up another book, and while those things are true, they aren't the whole picture. Each part pulls away another layer of the world, recontextualizing things. In particular, I think the badger clans are a neat bit of world lore that I'm eager to talk more about in future books, although we give a bigger perspective on them this time around.
What can you tell us about the creative team on these books?
I've been lucky to work with some incredibly creative and talented people on just about every Realms of Pugmire book. For this version, I hired a (mostly) whole new team of people, because I wanted some fresh voices. One of the downsides of being inside this world for close to a decade is that sometimes I look right through new opportunities to change and push the setting, so having some people who both loved Pugmire and were willing to challenge me and themselves was really important. And they knocked it out of the park!
Are there any Actual Plays where we can see the games in action?
Absolutely! A few groups were able to take an earlier draft of the rules and give them a try. I had to do some rewriting right up to the Kickstarter, but I think folks will get the gist of what's cool and exciting about Pugmire from these:
I ran a game for Red Moon Roleplaying. It's a bit darker than most Realms of Pugmire game, but it really showcases how deep and compelling the setting can be.
And some folks have been running "A Ball to Die For" on the Onyx Path Twitch channel.
There are more to come in future, too!
What kinds of stretch goals are you hoping for during the Kickstarter?
We have a few surprises coming up that I don't want to spoil (particularly if we don't get to them, which would be sad). However, I'm really excited to see if we can finance a full, working character sheet for Roll20. While we've been getting tokens and maps out over the past year or so, lots of people would love to have a fully-featured character sheet to use for online gaming. It's something we'd love to be able to provide, and a stretch goal is the perfect way to get the money to hire someone to handle that for us.
Realms of Pugmire is currently on Kickstarter.com!
Tags | dark-fantasy, onyx path