Posted on September 4, 2020 by Flames

As a Hero, a Scion becomes a figure of myth and story, an exemplar of some virtue of their chosen society or the culture they're born into. Even before their Visitation, the children of the Gods are a breed apart. But some want more than this lesser form of immortality, forever in the shadow of their parents. The golden ichor within the Scion's heart sears and cooks them, ever burning away any human frailties of the Scion and driving them toward more audacious Deeds. They seek to become truly transformational figures, leaving The World forever different in their wake. At the fifth dot of Legend, it all reaches a tipping point, where the Scion is formed more of divine ichor than mortal flesh–more immortal than mortal, a true Demigod. They have declared to The World that they will not be pawns of Fate, but players in their own right. They will succeed in becoming a God, or they will die with their failure.
Everything up to this point was your prologue. Now it's time to live your myth in Scion: Demigod.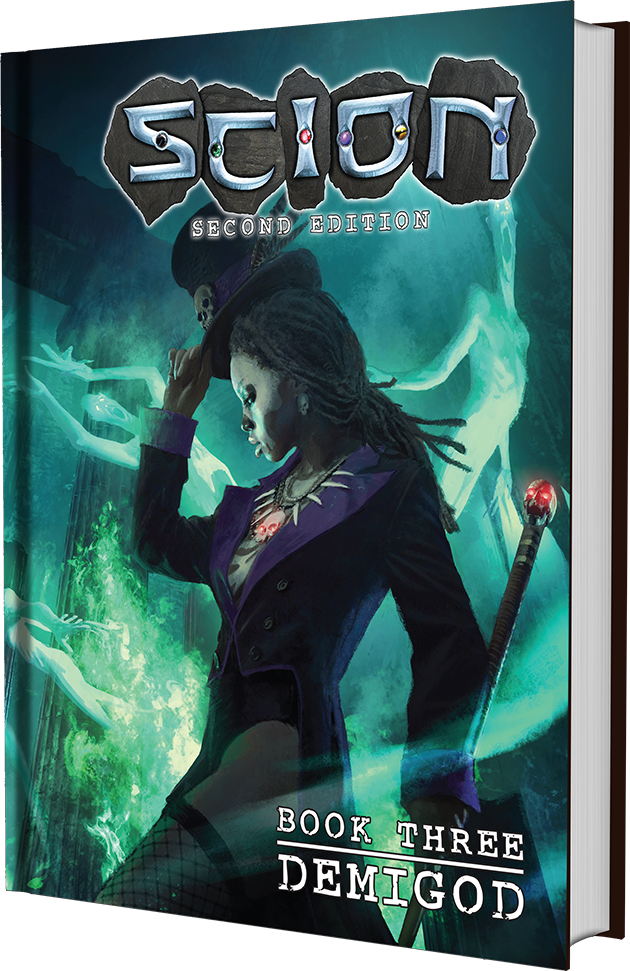 Scion: Demigod continues the path set down by Scion: Origin and Scion: Hero, expanding Scion Second Edition's power level and charting the next level of power tiers for the Scions of the Gods. Players will take their characters through a tightly designed yet flexible story arc that ends in apotheosis or death – either way, the character will no longer be mortal after this book. Your characters don't have to follow every Milestone with their Deeds — but they cannot run from their destiny once they've chosen to embrace it.
Scion: Demigod provides the next steps for your hero's journey to fully embracing their destiny and assuming their rightful mantle. The final book will contain the following chapters:
– Chapter One: Storyguiding Apotheosis describes the Milestones every Demigod must undertake to achieve Apotheosis, the act of becoming a God.
– Chapter Two: Pantheons details the five pantheons in this book, suitable for any level of play.
– Chapter Three: Character Creation details new and improved Birthrights and character options at the Demigod tier of play.
– Chapter Four: Chasing Divinity introduces new rules and expanded powers, including Dominion Boons, to represent a Demigod's powerful association with a Purview.
– Chapter Five: Underworlds describes the various Underworlds of the pantheons, physical locations that a Scion may venture to.
– Chapter Six: Antagonists features a number of new antagonist rules and entities who can challenge a Demigod.
– Appendix: The Keepers describes The Keepers of the World, a group of cross-pantheon Scions who aim to become a new pantheon, to the detriment of every other God in The World.
Note that Scion: Origin and Scion: Hero are needed to get full use of the rules and setting for Scion: Demigod.
The Scion: Demigod Kickstarter from Onyx Path Publishing quickly funded quickly along with several stretch goals.
Tags | modernfantasy, onyx path, scion, ttrpgs