Posted on July 16, 2021 by Flames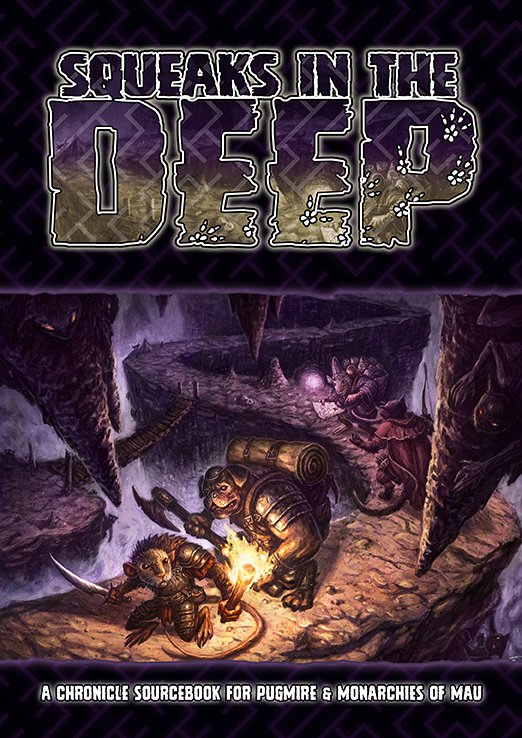 Venture into the Realms of Pugmire one more time…
Rats and mice live in the margins of the empires of dogs and cats, with homes that connect to the Underneath — a vast collection of warrens, tunnels, caves, and other hidden places. It is a dangerous place full of unexplained phenomena and terrifying creatures. But it is also full of wonders of ages past and the thrill of discovery. For the rodents believe Man was part of something called Science, a way to learn power through study, observation, and experimentation. Perhaps through the exploration of the Underneath, they can rediscover what Man has left behind. It's time to listen to the squeaks in the deep.
Squeaks in the Deep is a chronicle sourcebook for both Pugmire and Monarchies of Mau. It's usable with either game, or as part of a joint experience.
Some highlights include:
– Two new species for players to portray: rats and mice
– Six new rodent callings
– Psionic rules
– Information on the Underneath, as well as a variety of new enemies
– Confluence of Cults, an adventure featuring the Underneath with both Pugmire and Monarchies starting points
Squeaks in the Deep offers a new, bold canvas for your Pugmire and Monarchies of Mau games: the Underneath. This vast world of natural caverns, abandoned tunnels, and forgotten facilities offer enticing adventures to draw in heroes of all kinds. The Underneath holds treasures long lost by Man. It also holds unusual creatures with evolved intelligence like dogs and cats, but who changed in unexpected ways. For all the ways the surface world tried to reclaim what Man left behind, the Underneath twists and turns away from the expected for those who map the depths.
The Underneath provides Guides with a chance to embrace weirdness in their chronicle. It's been a long time since Man left this world behind, and there are plenty of things left unchecked and unexplained. Was Man responsible for these uncanny places? Or were these the forces that drove Man into the mists of history? The answer is ultimately up to the Guide, but this book provides some fantastic left turns and roller coaster drops they can use to surprise their table.
Find out more information and support this project at Kickstarter.com!
Tags | dark-fantasy, onyx path, pugmire