Posted on December 7, 2009 by Billzilla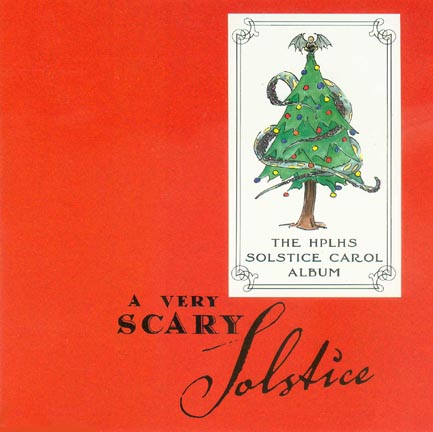 Available at CthulhuLives.org
Produced by the H.P. Lovecraft Historical Society
Many people try to find some solace in seasonal music at this festive yet emotionally draining time of year. After years of hearing the same classic carols — or more recent covers with no soul and even less imagination — if you're like me you're looking for something a little different to inspire the holiday spirit. A Very Scary Solstice by the H.P. Lovecraft Historical Society fills the bill nicely, with 25 Mythos-inspired takes on classic Holiday songs.
Warning: If you are particularly sensitive about the sanctity of holiday traditions, or if your sense of humor has rather rigid and narrowly-defined limits, stay away from this album. My largely abandoned Catholic upbringing suggests that these songs border on the blasphemous, despite their obvious playfulness and good humor.
The first two tracks are amusing, if not particularly memorable: "Have Yourself a Scary Little Solstice" and "Freddy the Red-Brained Mi-Go." Track three, "Great Old Ones Are Coming to Town" is a jazzy rendition that won't fail to get your toes tapping as your sanity leaks out your ears. "The Carol of the Old Ones" is surprisingly upbeat for all that the last line is a dirge-like "They will return;" even on close listening it's difficult to tell if the song was written from the viewpoint of a haggard investigator or joyously anticipating cultist.
Where the album really grabbed me was starting with the Shoggoth Song. Sung to the tune of "The Dreidel Song," it features a somewhat predictable outcome where a Shoggoth and human are involved together, but still struck a chord with me. "It's the Most Horrible Time of the Year" also does proud justice to the song it's based on. "Es Y'Golonac," totally got to me; if Jose Feliciano were dead, he'd be rolling in his grave at hearing this perversion of "Feliz Navidad." "On his hands he's got orifices, and he hasn't got a head." Perfect. Take a moment here to thank our lucky stars that parody is still an acceptable form of comment in the United States.
The video for "It's Beginning to Look a Lot Like Fishmen" has been making the rounds on the Internet and it's well worth watching at least once. I personally have gleefully tormented a particular co-worker at great length with its catchiness. The song is included here, and is a charmer, basically giving a faithful, thumbnail sketch of Lovecraft's story "The Shadow Over Innsmouth."
Other tracks I found particularly notable include "I Saw Mommy Kissing Yog-Sothoth," "I'm dreaming of a Dead City," and the terrible tounge-twister "Here Comes Yog-Sothoth." My favorite track on the album, "Little Rare Book Room," is much like reading one of the proverbial arcane tomes mentioned within; it took a couple of times through before I puzzled everything together, and then ran screaming into the night.
The great thing about the HPLHS is they do things the rest of us Lovecraft fans wish we had done. Their black and white, silent film rendition of "The Call of Cthulhu", available on video from the site and reviewed previously on Flames Rising, is an outstanding production –- especially given the lack of a big, Hollywood budget — and should be a staple of every horror fan's video collection. "The Whisperer in Darkness," another classic Lovecraft tale, is currently in production as a short film, and I can't wait to see it. Additionally, two other Solstice carol albums and several radio plays of Lovecraft's stories have been commercially produced by the group.
I purchased a copy of the "A Very Scary Solstice" album at GenCon, North America's premiere gaming convention, this past August; I've been delighted with my purchase ever since. The accompanying songbook is well worth the extra money; besides including the full lyrics, the book also contains interesting tidbits and trivia about the original songs themselves, about Pagan and Christian Solstice traditions, and even a few bits of lore surrounding popular classic Holiday films. If you consider yourself a fan of H.P. Lovecraft or the Mythos he founded, I urge you to check out this album without hesitation; your sanity or your church group may not thank you, but your friends will.
Review by Bill Bodden
Tags | gencon, Great Old Ones, H.P. Lovecraft, Holiday music, Shoggoth, Yog-Sothoth