Posted on July 29, 2011 by Flames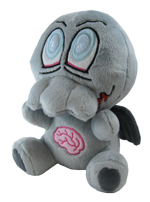 This preview and the images were provided with permission from the publisher as part of FlamesRising.com's continuing coverage of Steve Jackson Games Week. Today, you'll find images of upcoming Munchkin Games including Munchkin: Axe Cop, Munchkin Zombies 2, Munchin: Conan and a few other Cthulhu-related treats.
From Steve Jackson Games to our dice bags, there will be an attractive plethora of custom and jumbo die this Fall for Cthulhu Dice, Fairy Dust and Munchkin Jolly. One color in particular stood out in our minds. We regard it as watered down red, but you'll probably look at it and go… Pink? Pink Cthulhu Dice? With SPARKLES? It's almost as if they know we'll lose sanity just by picking one of them up. Well, if that doesn't cause you to go a little insane, the giant foam Cthulhu Dice (pictured above) probably will. Instead of marbles? Think Silly Bandz in the shape of Cthulhu. Oh. My.
[...more]