Posted on August 2, 2010 by Flames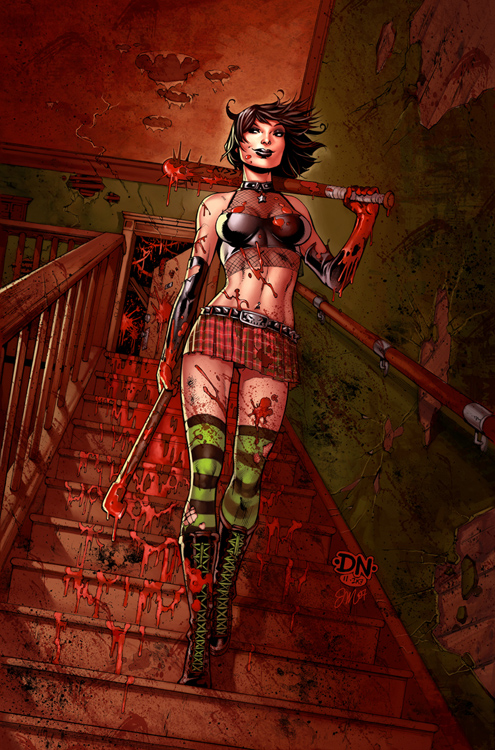 Eden Studios announces today an agreement with Tim Seeley, creator of the HACK/SLASH™ horror comic book series, for the design, production, and distribution of the HACK/SLASH roleplaying and card games. Currently in development, the HACK/SLASH card game will be released late in 2010.
Eden Studios has a knack for making great games based on survival horror, and HACK/SLASH is a perfect fit for their line-up. Cassie Hack is the lone survivor of an attack by the vicious killer known as the Lunch Lady. HACK/SLASH chronicles the travels of Cassie and her monstrous partner Vlad as they crisscross the country, hunting down and destroying supernatural slashers before the uncanny butchers can claim more victims. The series features a perfect balance of horror and dark humor, and plots that put a fresh spin on the familiar themes and iconic characters of comics, gaming, and, of course, slasher flicks.
In the HACK/SLASH card game, players take on the roles of Cassie, Vlad, and their allies as they wipe out the remarkable roster of slashers from the comic book series, from the Lunch Lady to Father Wrath to Grinface. The core design for the card game is provided by Matt Papa, while the development team includes game industry veterans M. Alexander Jurkat, Monica Valentinelli, and James Lowder, who is also the current editor for the HACK/SLASH comics series.
HACK/SLASH creator Tim Seeley will take an active role in the development of the games. "I grew up reading comics and playing RPGs," Seeley explains, "so I'm thrilled that a company as great as Eden Studios is giving people a chance to play around in the world of HACK/SLASH. And it's fantastic to see Cassie and Vlad on a roster alongside such stellar horror licenses as Buffy and Army of Darkness!"
A prototype version of the HACK/SLASH card game will be available for demo play at the Eden Studios booth (#209), at the upcoming Gen Con Game Fair, August 5th through 8th, at the Indiana Convention Center in Indianapolis.
ABOUT EDEN STUDIOS:
Eden Studios makes cool games and books. Their popular and highly acclaimed lines include All Flesh Must Be Eaten, the zombie survivor horror roleplaying game; CJ Carella's WitchCraft, the roleplaying game of dark secrets and magic; and Conspiracy X, the roleplaying game of aliens and government cover-ups. Eden has also produced award-winning games based on a stellar array of licensed properties, including Buffy the Vampire Slayer, Angel, and the cult classic Army of Darkness. On the lighter side, Eden Studios offers HACK!, a humorous card game based on the Knights of the Dinner Table™ comic book by Kenzer and Company, and Abduction, the fast and furious game of alien abduction. Check out all the Eden Studios products at www.edenstudios.net.
ABOUT HACK/SLASH:
Created by Tim Seeley with Stefano Caselli, HACK/SLASH debuted in 2004 as a series of one-shot comics and has grown steadily into a fan favorite and award winning horror property. Under Seeley's direction, the HACK/SLASH comics series was originally published by Devil's Due, then moved to Image in 2010. The initial Image miniseries, My First Maniac, sold out its first issue and has drawn in thousands of new readers. HACK/SLASH has been a Spike TV Scream Award finalist for Best Comic Book Series and won the Project Fanboy Award for Best Rookie Title of 2008 and the 2010 Fantasy Horror Award for Best Comic Book Series. In 2005, HACK/SLASH was adapted into a stage play by Chicago's New Millennium Theatre Company. HACK/SLASH has also been optioned by Rogue Pictures for development as a feature film.

Tags | eden-studios, tim seeley, unisystem, zombies