Posted on May 20, 2011 by Flames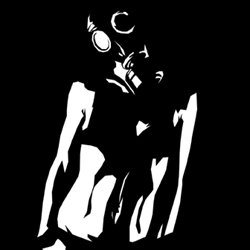 While at PAX East this year, I had the pleasure of sitting in on a panel on developing independent RPGs. Vincent Baker was among the panelists, and I was incredibly excited to see the man who had created the well-known and critically acclaimed Dogs in the Vineyard. Immediately after the panel I went to his booth and saw that he had another game for sale, Apocalypse World. Its cover, featuring a nude, ambiguous form in a gas mask, haunched over and lit from behind, intrigued me– I had just finished my thesis on Cormac McCarthy's The Road and was on an apocalypse kick, so although I had gone to the booth expecting to pick up DitV, I came away with a game I hadn't even heard of before.
With Apocalypse World I didn't really know what to expect. I admit, I don't have very many systems under my belt– I've read far more games than I've actually played, and I don't like to pass judgment on a system without actually playing it. But just from the get-go, Apocalypse World had a lot going for it.
[...more]