Posted on October 31, 2010 by Monica Valentinelli
I am pleased to present you with a free flash fiction piece as my Halloween treat to you. This story is entitled "A Different Kind of Treat." For more about my games, stories and books, visit www.mlwrites.com.
A Different Kind of Treat
br> br>
Blood-red shafts of sunlight filter through a dirty cabin window, kissing a row of colorful glass bottles. One by one the bottles shine with anticipation as they reveal their grisly contents. Three eyes spin in a green flask; a pair of wings beats urgently in another.
"What's that, Momma?" A child's finger points to a jar of wrinkled entrails sitting high on a kitchen shelf. The boy, who stands about three feet tall, is covered in dust and flour. His skin is marred with muddy blisters.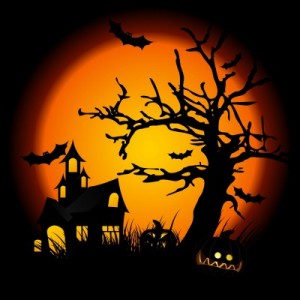 "Oh nothing special, Alwin," Belinda replies airily as she pulls a frilly apron over her head. "Just something I cook with now and again. You hungry?"
"Want candy." Alwin rubs his bloated stomach. "Chocolate, 'specially."
She flashes him a crooked grin and picks a small book off the burnished wood counter. Has it really been a year since she last used her recipe book?
[...more]