Posted on October 18, 2010 by Monica Valentinelli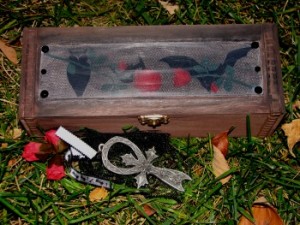 To help you get into the spirit of Halloween, FlamesRising.com project manager talks about making a costume — for her dice. In this article, find out how Monica made her dice coffin and where she got the inspiration to add black tulle, a mask, and red roses to the coffin lid.
Here's a sneak peek at what she has to say: Victorian-inspired Halloween decor is one of the hot themes this year; you can find black lace and dead roses almost everywhere you look. Birds like ravens and owls are pretty popular, too. Now, I went a little crazy nutso with the scenery because I wanted it to look three dimensional. I used black tulle, which you can find in any wedding aisle. The flat, red roses were from the scrapbooking section of our local craft store and the owl, mask and bat were die cut stickers from a Halloween display.
Find out more in this fun post about Monica's quest to make a dice coffin costume.
[...more]