Posted on May 25, 2011 by Flames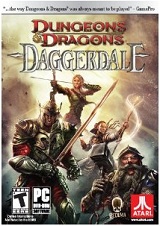 The original standard for fantasy roleplaying is taking another step in its storied pop culture history as the Dalelands of the Forgotten Realms is brought to life for gamers and fantasy enthusiasts across the world. Atari, one of the world's most recognized publishers and producers of interactive entertainment and Bedlam Games announced today the release of the highly anticipated Dungeons & Dragons: Daggerdale on Xbox LIVE Arcade for the Xbox 360 video game and entertainment system from Microsoft and Windows PC.
Dungeons & Dragons: Daggerdale, a hack and slash action role playing game set in the deep mythology of the Forgotten Realms, is the first Dungeons & Dragons video game for connected consoles. Players are summoned by a mysterious mage and given the duty of defending their homeland as Rezlus, an evil Zhentarim Cleric looks to bring the power of the Black Lord Bane to Daggerdale. Restore order to the Dalelands by unlocking the secrets of the Mines of Tethyamar, defeating the evil within the treacherous Tower of the Void, leading to the final confrontation with Rezlus himself.
[...more]