Posted on May 23, 2012 by Flames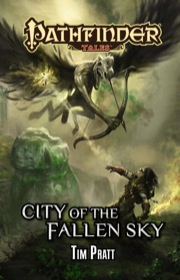 From Hugo Award–winner Tim Pratt comes a new fantastical adventure set in the award-winning world of the Pathfinder Roleplaying Game.
In City of the Fallen Sky, a young alchemist named Alaeron flees an apprenticeship with the dark scholars of Numeria's Technic League, only to find himself in trouble once more as a chance encounter sends him and several reluctant companions into the jungles of the Mwangi Expanse. Tracked by a high-tech assassin, and armed only with his inquisitive nature—and a few mysterious artifacts stolen from the Technic League—Alaeron must find the ruins of a legendary flying city, or face the wrath of a cruel crime lord…
Flames Rising is pleased to present an excerpt from this new novel.
[...more]